Overview
Schedule
Facilitators
Services
Bookings
Apart from the workshops, Unplugged Dance provides accommodation and two vegetarian meals and a snack per day to the participants.
Accommodation
Paleochori Camp is equipped with autonomous wc facilities, showers with hot water and specially designed areas for resting in the shadow under the trees with swings and hammocks.
We offer two different options for accomodation in order to find the one that suits you best.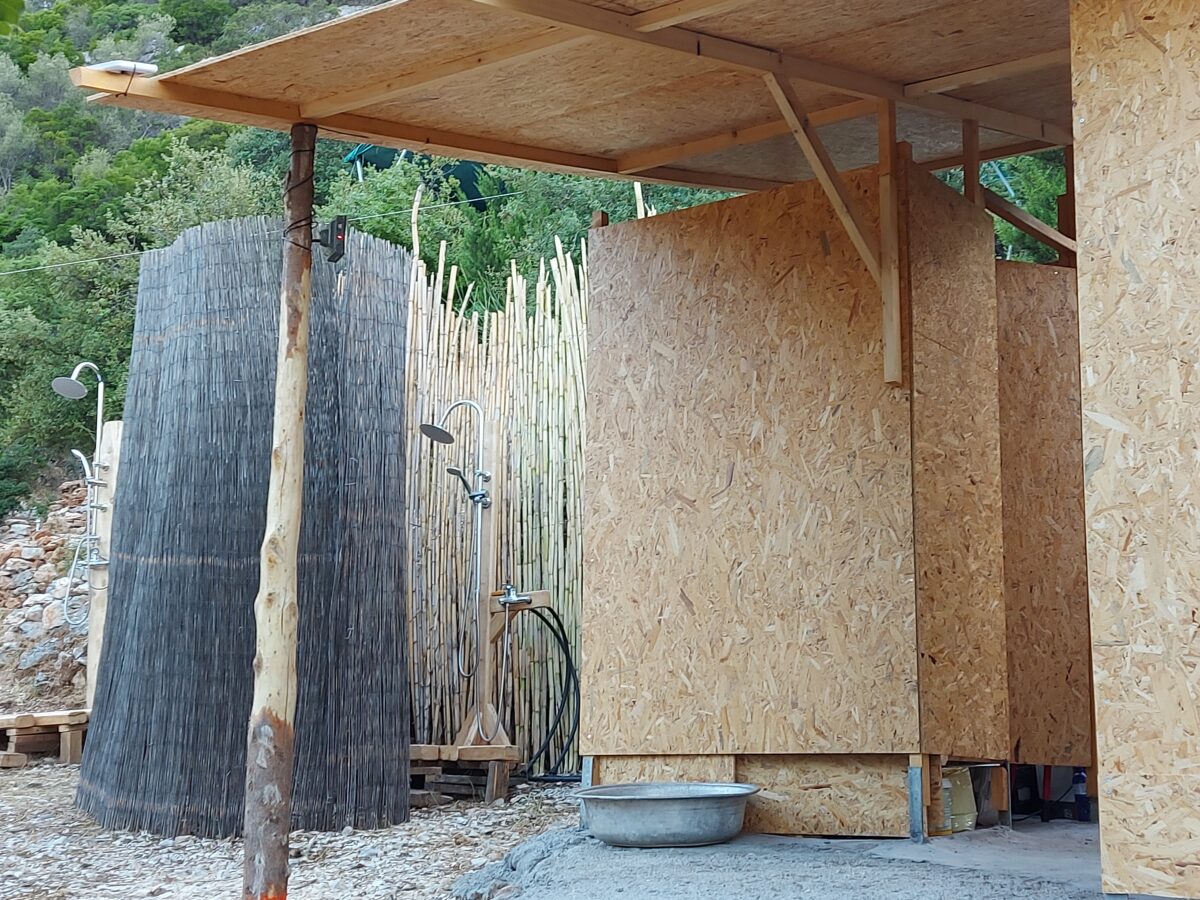 Camping with your own tent
We provide properly designed, safe space to place your own tent and keep the cost of the program low.
Single 4m bell tent 
Shared 4m bell tent for two people 
Shared 5m bell tent for two people 
Shared 5m bell tent for three people 
The 4m Bell Tent has plenty of space for one or two people. The 5m Bell Tent has plenty of space for two or three people.
Our bell tents are manufactured using the finest 285gsm cotton canvas which are fully waterproof. Mosquito mesh door, windows and air vents ensure you can allow a breeze within the tent but keep the creepy crawlies out.
All tents are properly furnished with beds, clothes furniture, small table, pillows and the service includes bed sheets, as well as body and face towel.
Meals 
Two vegetarian meals (breakfast – dinner) and a snack in between are provided each day. They are plant-based, with fresh, local, organic products, cooked with love by the experienced team of φ | Foodpath. 
In case of intolerance, allergy or any other impotant information we need to know regarding your diet please note it on the registration form so that we can take it into account.
Practicing space
Classes are taking place in an openair, shaded patio of 100sm in Paleochori, as well as in natural locations of the village after consultation with each instructor. 
BOOK YOUR SPOT
Main Program _ 1 week
710-985
830-1150
Main Program _ 2 weeks
1210-1670
1410-1950
Revisited workshop _ 1 week
665-940
780-1100
All prices are in Euros.
These are the costs ranges for every program depending your accommodation choice
-bring your own tent
-single bell tent
-shared 4m bell tent for two people
-shared 5m bell tent for two people
-shared 5m bell tent for three people
* Early Bird prices apply until 11th of June, 2023 for Main workshops and the Revisited Workshop The Body The Player The Journey that are taking place during August-September.
Main
Includes 2 workshops per week, meals and accommodation.
You can also choose if you want to attend for 1 or 2 weeks.
Revisited
Includes 1 workshop per week, meals and accommodation.
In case you are interested in Research Week please contact us.
In case of financial difficulties along with strong willing to attend Unplugged program, please do not hesitate to contact us!
For more information and questions please contact us by sending us a message through the Contact page, or directly by email at unpluggeddance@gmail.com
IMPORTANT NOTE:  The prices that you will find below reffer to the 25% deposit in order to book your spot. The remaining balance (75%) has to be paid off until the day of your arrival. 
BOOK YOUR SPOT
<!=========Events list Template 2.2.5=========>
Unplugged Dance _ Revisited _ week 2 _ 2nd - 9th of July, 2023 Losing Ground | Intimate Circles by Kyveli Kouvatsi & Giorgos Sioras Deligiannis Included in the […]
Find out more »