by Marina Tsartsara & Defne Erdur
Seeds – inquiring creativity on the transitive line between life and art
We will be planting many seeds together this week. With the support of images, materials i.e resources from our inner worlds and the out world surrounding us; trusting the creative potential of each seed that we all bring we wish to host this week in a seriously joyful and joyfully serious way.
We wish for the "essence", the "home", the "authentic life force" to find its effortless unfolding.
We will support each other to give and take time, space and nourishment to realize where we are on the cycle of our own creativity : seed in a palm, seed under soil, cracking seed, sprouting, growing, fruiting, decaying… fertile and potent no matter at which state… you are welcome!
Deepening into Somatic Art® Practice with Marina Tsartsara
During this week we will delve into an in depth research of the Somatic Art® Practice methodology on the subject of the 'seed'.
The methodology interlaces Somatic, Performance and Visual Art methods deepening into the contents of each workshop through weaving and layering.
Our daily explorations will include Experiential Anatomy (Body-Mind Centering®), Experiential Embryology, Somatic Movement, Relational Mindfulness, Performance methods, Fine & Visual Arts (drawing, photography & video) as well as creative writing.
Part of our explorations will be spending time in nature to 'borrow' qualities, materials and inspiration.
We will work on individual, couple and group dynamics/relationships.
Personal reflections and group sharings are important and will be given space as part of the integration of the work.
Body-Mind Centering® is a practice of experiential anatomy and psychophysical integration: embodiment of current and older body structures (embryology and body systems) through consciousness, visualisations and somatisations. The methodology is experiential and the tools are: breathing, voice, touch and movement. Qualities of touch are very important in embodiment via BMC®, as well as relational work and group dynamics.
MA – Pregnant Nothingness
"Where there is clutter, even valuable things lose their value. Where there is too much, nothing stands out. The essence of Japanese aesthetic is a concept called 'MA' (pronounced "maah") — the pure, and indeed essential, void between all "things." A total lack of clutter, MA is like a holder within which things can exist, stand out and have meaning. MA is the emptiness full of possibilities, like a promise yet to be fulfilled. … MA is in the purposeful pauses in speech which make words stand out. It is in the quiet time we all need to make our busy lives meaningful, and in the silence between the notes which make the music.
MA is what creates the peace of mind (called 'heijoshin' in Japanese) we all need, so that there is room for our thoughts to exist properly, and to thrive." (1)
This week – as we will be working deeply with our own bodies and images, revisiting information that actually "every body knows", and as we will be immersed in abundant nature – it feels important and necessary to co-create "empthy space" as an interval, a treshold, laying fallow… To experience timelessness, spacelessness, pregnant nothingness may allow us to transform, discover/recover, reconnect to our creative potential as artists, researchers, teachers, facilitators, students, i.e. curious beings on this planet. Within a clear and simple time-space frame to contain what is being born in our togetherness I will invite each of us to focus on our individual states, needs and desires, our own inquiries. Many modalities ranging from Wheel of Consent, Somatic Experiencing to Contact Improvisation, Authentic Movement to Instant Composition will be at our service if and when the collective empty space we hold calls for them. Antonija Livingston's invitation will be one of our principle mantra "Do. Don't Do. Modify. Witness. Report. Reset. Recover."
Our daily schedule:
08.00 – 09.00 Breakfast
09.30-12.30 Practice
13.00 – 16.30 Resting & snack
16.30-19.30 Practice
20.00 -21.00 Dinner
Sunday 9th is the arrival day and only welcome dinner is included.
Sunday 16th is the departure day and only breakfast is included.
.
.
.
All Unplugged Dance workshops are open to everyone who wants to meet, share, dance and self-explore through movement and creative process. There is no need for previous experience in dance classes, although if there is one, it is welcome. 
"Seeds" is part of Unplugged Revisited, an imprint left by our meeting with the facilitators of the first Unplugged Dance program.
With the intention of creating a space of educational, artistic research and exchange, that will give the opportunity for our individual trajectories to meet and our relationships to deepen, we created this branch where educators/artists from the previous Unplugged Dance programs, have a whole week in order to deepen or revisit their workshop.
.
.
.
Find the BOOK YOUR SPOT button at the end of this page.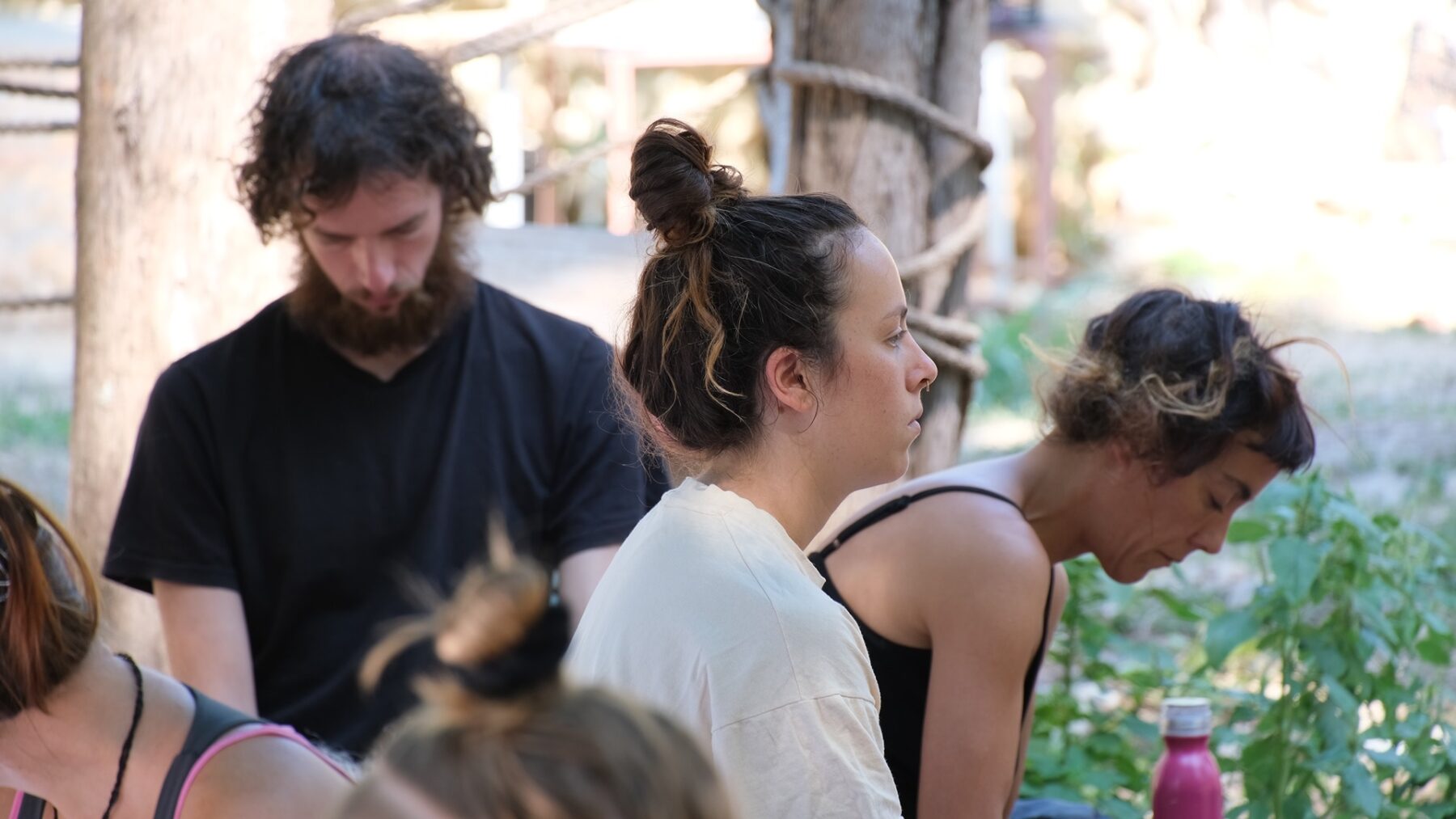 BOOK YOUR SPOT